Welcome to the First Edition of our Newsletter
This is the first edition of our brand new method of communication. Our aim is to keep members informed about our activities. Some of you come to coffee mornings, some to lunches and some to both. This can make communication difficult so we hope this method will keep all informed.
We are keen for every member to be involved so please take a copy of this newsletter to someone who is unable to come to our meetings.
Please remember to tell us your news so that we can share this together. Committee members contact details are in your programme cards and the website details are included in this newsletter.
Also don't forget that Linda Cribbin is the Almoner.
Chris Ludford-Thomas
Chairman
| | |
| --- | --- |
| | My charity this year is "LITTLE BLEEDERS" which supports young haemophiliacs in sport. Haemophilia is an inherited blood disorder affecting boys and means that they lack the clotting agent factor 8 and can bleed to death after operations or if injured in an accident. Queen Victoria had a son with the condition and although I have no royal connections, I have my own "little bleeder"; my grandson Inigo who is a lively 7year old. |
We have always been advocates for charitable giving. After all, this is what freemasonry is all about.
It's a little more varied as we thought that the coffee mornings particularly needed "livening up". I know lots of you come to chat and that is good, but some months we have arranged to have a speaker with some participating activities for us to enjoy. I'm particularly looking forward to finding out which colours suit me at the March coffee morning. I'll probably discover that I've been wearing the wrong ones for years! There will continue to be lunches so please don't panic but we need to try new things. So be adventurous, look at the programme and let's see how the year goes.
Recent Events we have enjoyed together:
June Luncheon - Story Telling at it's very best ...
Jo Blake-Cave is a performer and theatre maker, working across the disciplines of storytelling, theatre and dance. She gives dynamic, poetic performances and was the speaker at our June luncheon this year. And what a performance she gave. She was absolutely superb - brilliant timing, very funny and highly entertaining. She doesn't just tell stories, she performs them. We were treated to three long stories and were mesmerised. Jo finished with a short one I thought I would share with you. Not word for word, I hasten to add, but you will get the gist of it.
Three brothers were walking through the forest one day, when they came upon a fairy that was trapped in a spider's web up in a tree. They carefully freed her from the web and she was so grateful, she granted each of them a wish. The first brother wished to be clever so she granted his wish. The second brother wished to be cleverer than the first brother, so she granted him his wish. When it came to the third brother, he wished to be cleverer than both his brothers put together. "Are you sure"? the fairy asked. "YES" he replied - so she turned him into a WOMAN!
Contributor - Lynne Clayton
Visit to Chelsea Hospital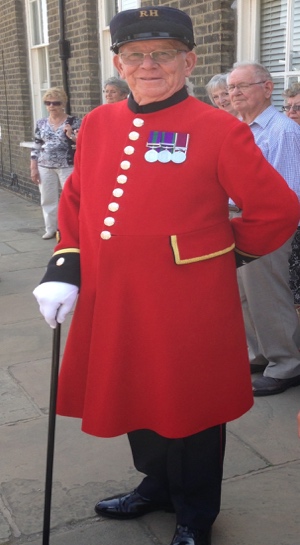 On a very hot day in July we travelled by coach to London. As always the M1 was slow moving and crossing London added to the journey. But the visit was enlightening and made even more interesting by our excellent guide above.
Flower Arranging at the July coffee morning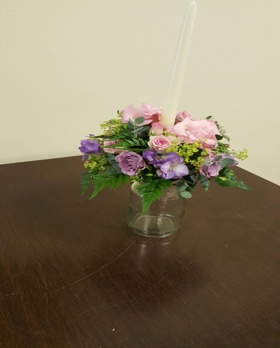 Chery Worthington talked as she expertly created flower arrangements. She explained the process as the green block oases gradually became wonderful displays. She also used candles as she shared her wealth of knowledge, leaving many of us with a sense of awe and wonder.
The results were donated to the raffle with two lucky members overjoyed with their prizes. The largest display was auctioned and raised £25 which was donated to Cheryl's Church.
Coffee and chat with lovely flowers was a real success!
Chairman's Coffee Morning
In August 60 members supported this event and then stayed to enjoy a complimentary lunch together. With special thanks to Sandra Russell and Gill Bott.
This was another successful venture.